Join me in my studio on beautiful Whidbey Island, at the mouth of the Puget Sound in Washington State. We will dive into color on our first day together while we create samples that will prepare you to design a seamless Garden Jacket over the next 3 days. You will come away wearing a one-of-a-kind reversible piece. While you are here, we will gather round my dining room table - drink wine and eat healthful, yummy food that I have lovingly prepared from my mother's recipes. You will have a chance to walk the beach and gather pieces of driftwood, agates, rusty bits. This retreat is intentionally small so that there is lots of space for you to create as well as one-on-one instruction time with me. I look forward to welcoming you into my home and studio.
Open up a world of possibilities in design by learning how to create seamless three-dimensional shapes in Nuno Felt.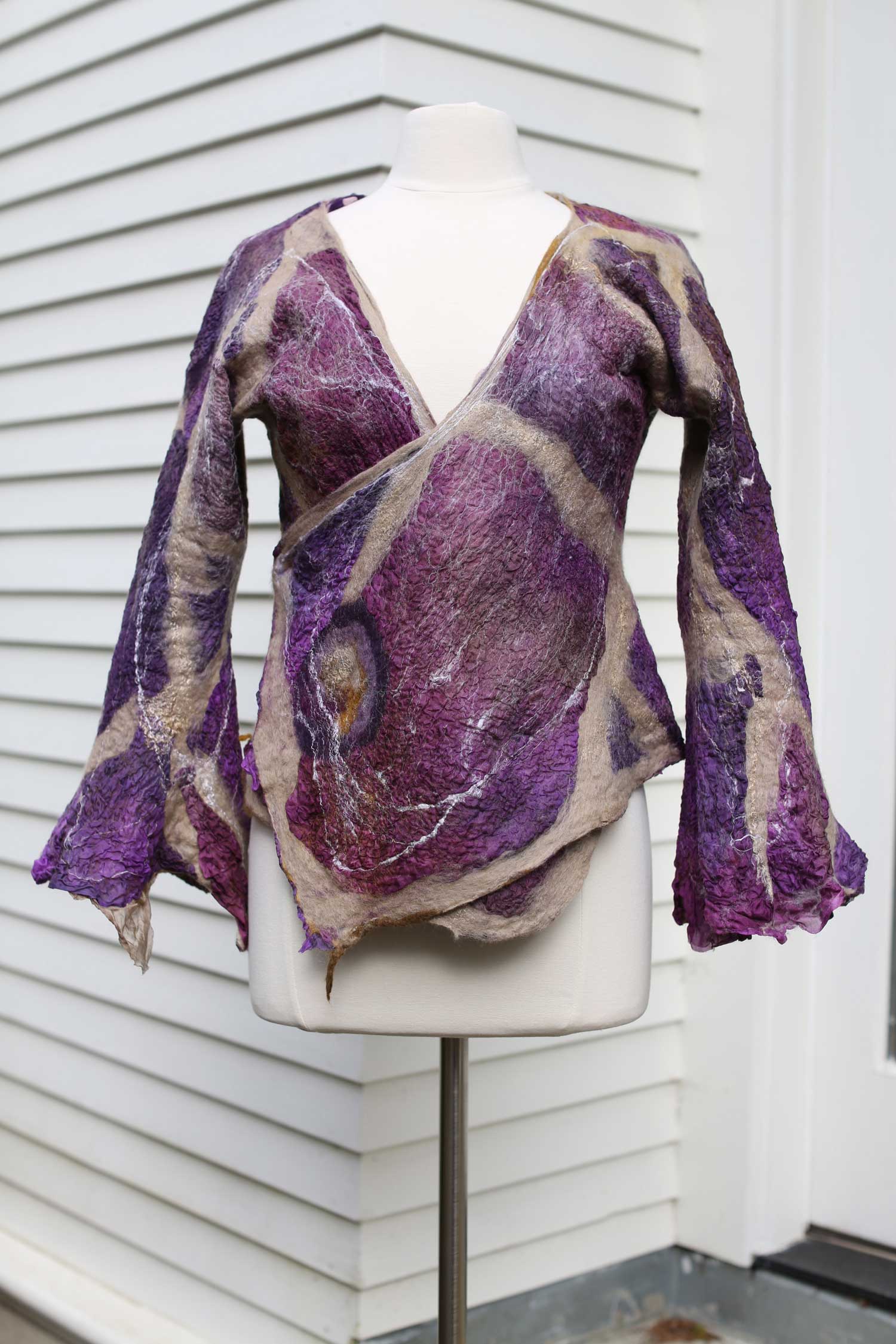 Garden Jacket Workshop
Throw on a splash of color with this reversible, short Nuno Felt jacket. Explore design elements using silk collage, holes and colorful wool accents to create a piece of wearable art light enough to enhance any outfit. Once the basic pattern is created there are lots of possible variations: the front can have a straight box cut or a curved more whimsical look, love asymmetry? No problem! Arms can be long, short, straight or flared. Adjust the weight – use more wool for more warmth, less wool and more silk for a light weight summer evening shrug.
The Retreat will begin with a Dive Into Color workshop and of course, discussions of color will be woven in throughout the workshop.
Bonus! Can be made on a single table for those with limited working space in their home studio – and of course it is all made in a single piece with no stitching.
Prerequisite: Some felting experience is helpful. Try my Intro To Nuno Felt Retreat or some of the projects in my book: Artful Color In Nuno Felt
4-day Nuno Felt retreat includes:
Working in a sun-filled studio surrounded by stunning natural light

Each day filled with facilitated instruction including lots of one-on-one time with Beverly

Optional Open Studio time in the mornings before class

Full set of written instructions

Tools and accent color provided

Whidbey Island roasted organic and fair trade coffee plus loose leaf tea bar and infused well water served all day

Delectable baked goods in the morning

Grab a to-go coffee / tea mug and walk the beach or hike up the hill before class

Health conscious gourmet lunches each day

Wine and hors d'oeuvres every evening

Full course gourmet dinner Saturday night

Menu designed to suit your dietary restrictions

Bring your camera to capture the changing moods of the sound, the Cascade mountains and numerous wetland birds

Optional Beach walks with mindfulness activities to help you relax and recharge

Discounts on products and future workshops

Optional extra day includes a Tour of Whidbey (nominal fee)
Workshop Details for 4-day Retreat
Your Investment:
$998
Location:
All retreats take place in Beverly's studio on beautiful Whidbey Island, Washington. Direct shuttle service from SeaTac airport takes 2 hours and is very reasonably priced. Detailed directions to the studio will be emailed upon registration.
Schedule:
Thursday: 10:00am - 5:30pm (lunch and wine included)
Friday: 10:00am - 5:30pm (lunch and wine included)
Saturday: 10:00am - 7:30pm (lunch, wine, dinner included)
Sunday: 10:00am - 5:30pm (lunch and wine included)
Optional Monday: 11:00am - 6:00pm Tour of Whidbey for a minimal fee of $25
Bonus:
Beach walks with mindfulness activities to help you relax and recharge
Upper body massage session available for an additional rate
Optional Open Studio time available in the mornings before class
Tools and Materials:
All tools provided. Participants responsible for bringing materials or can choose to purchase from Beverly during retreat.
Nourishment:
Thanks to amazing recipes handed down from her mother, Beverly creates gourmet meals designed to be health conscious and delicious. She honors all dietary restrictions communicated to her in advance. Her meals are a true feast for the taste buds as well as the eye - she delights in welcoming you to her home and dining table.
Community:
Garden Jacket Retreat limited to 6 students. This insures lots of space to create as well as one-on-one attention from Beverly. Participants are invited to a private Facebook group to share, connect and be inspired by current, past and future students.
Accommodations:
Everything from top-of-the-line B&B's to AirBNB to inexpensive shared homes for rent to camping is within a short drive from Beverly's studio. Links will be sent upon registration. Room and ride sharing will be facilitated through the private Facebook group.
Cancellation Policy:
There are no refunds for this workshop unless we are able to fill your spot. A $100 cancellation fee will apply if we are able to fill your spot.
Confirmation:
Once you are enrolled in the workshop, you will receive several emails with details regarding the schedule, supplies, accommodations, and activities. Please feel free to email any questions to team Beverly: Hello@BeverlyAshGilbert.com. We are here to help!